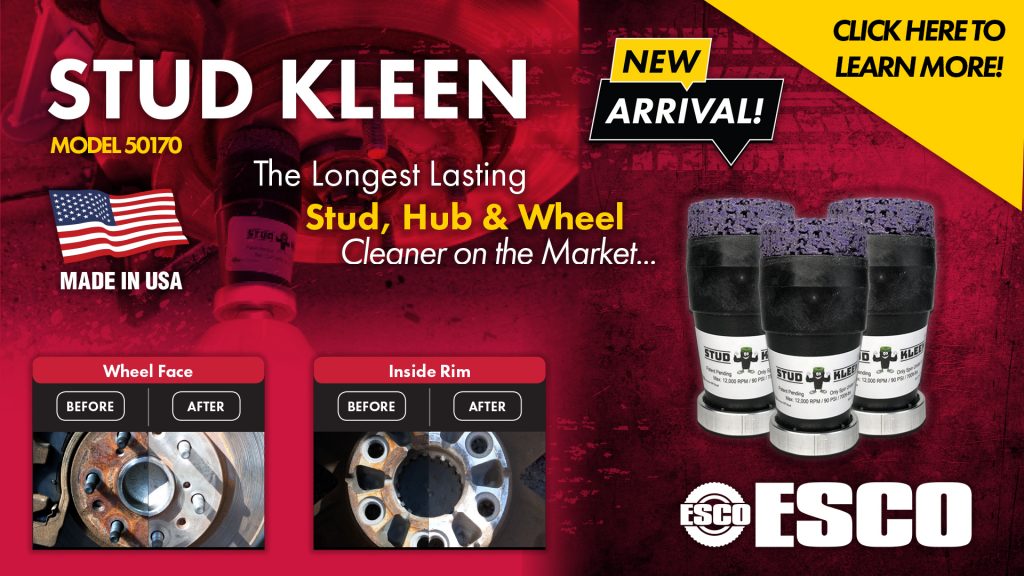 ESCO (Equipment Supply Company)
is pleased to announce the New
STUD KLEEN
Hub, Stud, & Wheel Cleaning Tool [Model 50170]. This USA MADE cleaning solution is uniquely designed to clean both the Hub & Stud at the same time with an internal Stainless-Steel Stud Cleaning System. Designed to completely rid the rim, wheel face, studs, and brake drum of any debris or contaminates that would affect the overall tire/wheel process.
Its highly dense abrasive cleaning pad lasts longer than any other cleaning pad on the market and can do over 800 wheels with one tool. The simple design makes it a perfect tool for any tire shop, DIYer, or service vehicle that does daily tire/wheel service on automotive, SUV, and light-truck vehicles.
Easily place the STUD KLEEN onto a ½" impact gun (air or electric) in the shop and begin. One size fits most application for Automotive, SUV, and Light Truck. It is truly the "Longest Lasting Stud, Hub, and Wheel Cleaning Solution on the Market!".
The STUD KLEEN Hub, Stud, & Wheel Cleaning Tool [Model 50170] is available now wherever ESCO products are sold. For more information about this product and where to buy ESCO products email info@esco.net; call 1-800-352-9852; or visit www.esco.net and search "STUD KLEEN".
For over 35 years, ESCO has been the world leader in quality hydraulic tire changing tools and accessories for the Commercial Truck, OTR, Mining, Automotive, and Agricultural Market.