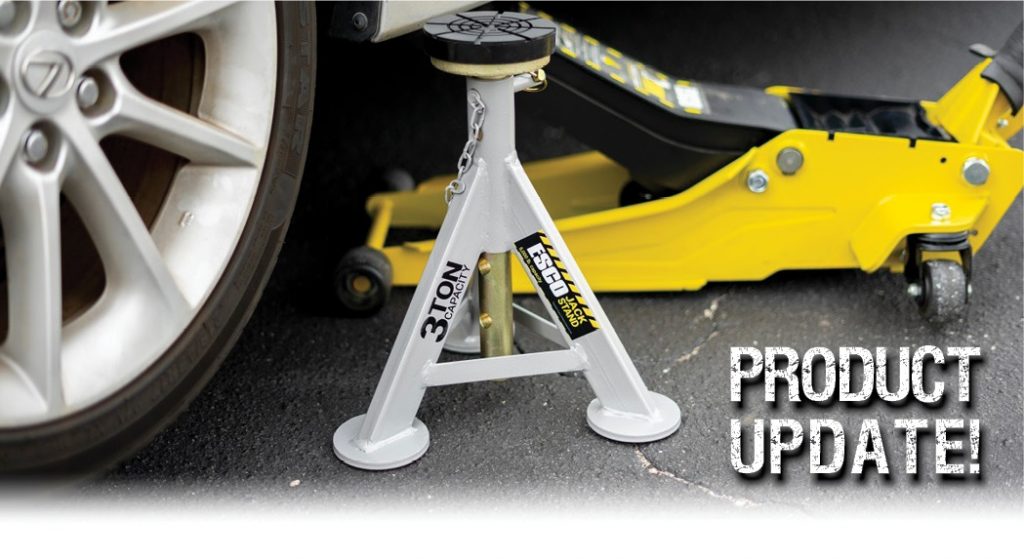 Brooksville, FL, November 16, 2020 – ESCO, a leading worldwide manufacturer and supplier of tire changing tools and accessories is pleased to report our continued initiative to provide the wheel and tire service industry with the most innovative, quality products. Committed to meeting and exceeding industry standards and regulations, ESCO has dedicated time during the pandemic to reevaluate product lines safety guidelines and manufacturing to supply the best and safest solutions for the tire and wheel market.
Recently, there was a mass recall of jack stands that shocked the industry that had resulted from failures in the field. In response, ESCO has taken the initiative to perform intensive testing to our line of 3-ton jack stand series and are pleased to report all have passed ASME standards by an accredited American Association for Laboratory Accreditation (A2LA) certified testing center. American Society of Mechanical Engineers (ASME) sets strict safety standards for portable automotive stands, requiring jack stands to undergo and pass intensive weight loading testing.
According to ASME jack stand safety standards, vehicle stands require markings both on the products and within the manuals including safety warnings, operation instructions, and clear and visible weight capacity limits. Proof load testing of 200% of the rated weight capacity ultimately determines a jack stand as safe for application by these strict guidelines. Testing on the ESCO support equipment product line continues to be conducted in an effort to affirm our initiative to provide the industry with the best quality safety equipment.
For any further questions regarding the ASME jack stand testing or any other products available from ESCO please contact an ESCO Sales or Customer Service Representative at Toll-Free 1-800-352-9852 or Directly at 352-754-1117. For more information about ESCO products visit www.esco.net or email info@esco.net.