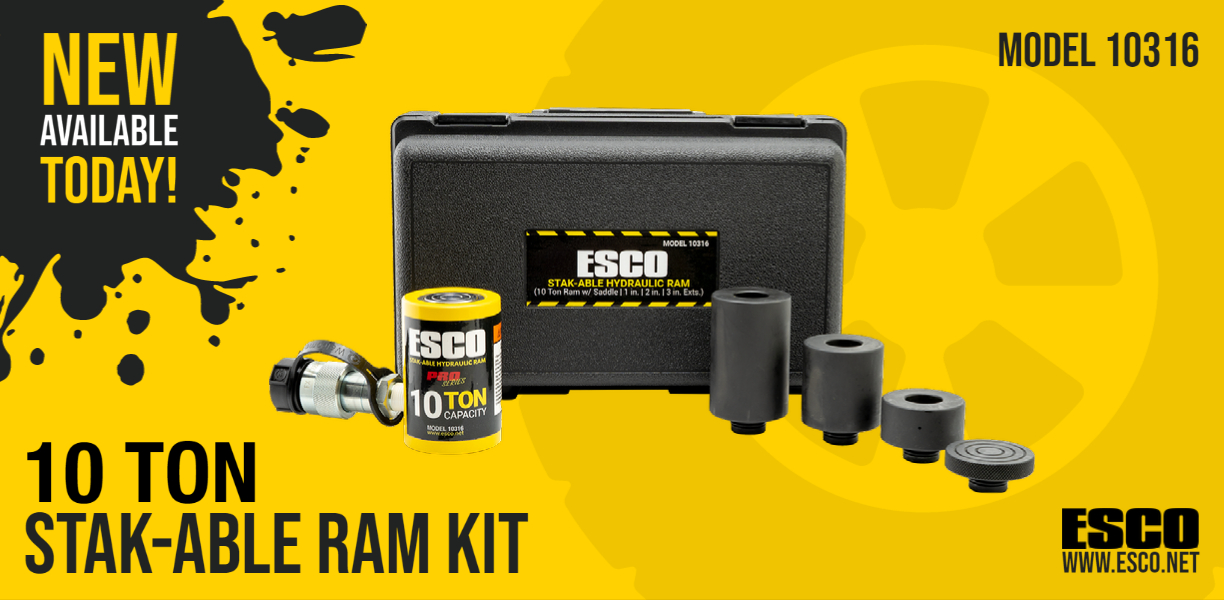 Brooksville, FL –  ESCO, a leading worldwide manufacturer and supplier of tire changing tools and accessories, launches a new Pro Series Stak-Able 10 Ton Ram Kit (Model 10316). This new 10 Ton Stak-Able Ram Kit is specifically designed for a wide range of heavy-duty applications. Eliminating tedious effort required to push rusted, corroded wheels off of hubs makes this unit ideal for a large number of applications including stubborn 22.5 and 24.5 wheels.
Manufactured for professional use, the Stak-able Ram Kit is far more resilient and robust than any other equipment alike it on the market. Designed for applications in the heavy-duty commercial and OTR tire industry, the versatility of this tool will find a welcome home in any tire service professional's tool arsenal.
The 10 Ton Stak-able Ram Kit was carefully constructed with multiple, easy to snap in, extensions to allow for multiple height applications, makes this the most versatile unit on the market. Applicable for any lifting, pushing, or pulling application in the market, with a minimum height of 3.5 inches and maximum (with all extensions and saddle) of 11.25 inches. Unit comes in a heavy-duty constructed case fitting the 10-ton ram and accessories with ease keeping all the parts together. The inside of the case is custom EVA foam fitted for each part.
For any questions regarding the new Pro Series 10 Ton Stak-Able Ram Kit (Model 10316) or any other products available from ESCO please contact an ESCO Sales or Customer Service Representative at Toll-Free 1-800-352-9852 or Directly at 352-754-1117. For more information visit www.esco.net or email info@esco.net.
For over 36 years, ESCO has been a world leader in quality hydraulic tire changing tools and accessories for the Commercial Truck, OTR, Mining, Automotive, and Agricultural Market. ESCO produces tire service and handling products ranging from heavy-duty bead breakers; hydraulic rams; air hydraulic pumps; heavy-duty jacks and stands; tire demounting and mounting tools; tire-wheel dollies, torque wrenches, and many other quality tire service equipment to better aid in safely and efficiently servicing tire/wheels.