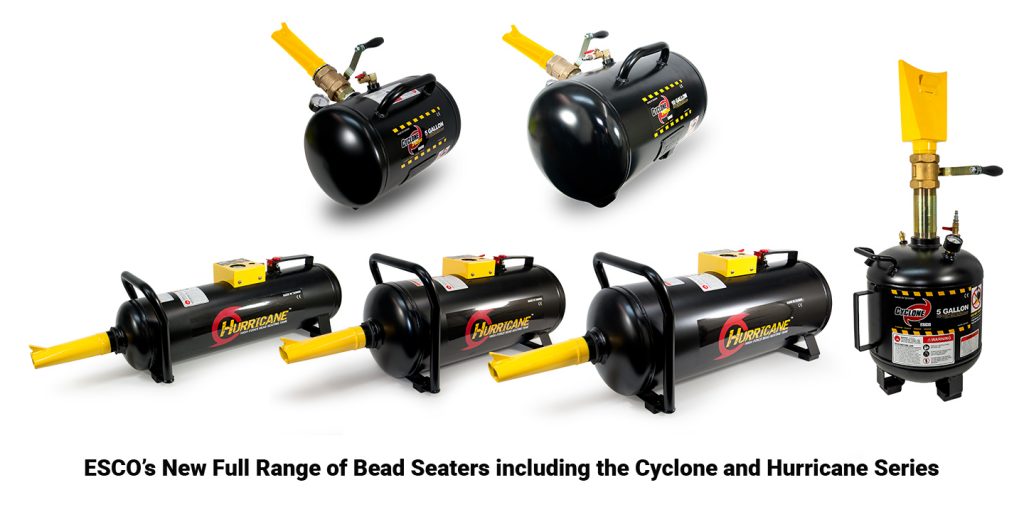 Brooksville, FL, September 28, 2020 – ESCO, a leading worldwide manufacturer and supplier of tire changing tools and accessories is pleased to introduce a full line of redesigned tire bead seaters, the Hurricane and Cyclone series. Used to seat the tire bead on all size tires, ESCO now offers a full range of bead seaters available in a variety of tank capacities and discharge valves.
ESCO's bead seater products provide a hassle-free, fast solution to seat the beads on an array of tires ranging from golf carts up to heavy-duty and OTR applications. Both the Cyclone and Hurricane bead seater models are equipped with robust air tanks, all ASME certified. The Cyclone series includes a robust steel air tank, equipped with a newly redesigned butterfly release valve designed to throwback, instead of forward, for better control and accuracy. The Hurricane series bead seater tanks are available in three sizes (5, 9, and 13 gallons), all equipped with lightweight aluminum air tanks and reinforced heavy-duty welded feet with protective rubber for increased longevity while not in use. Hurricane series bead seaters are designed to deliver a quick burst of precise and accurate air with the release of the external push-button style valve. All bead seater models prevent wasting air in the discharge process while providing a safe and controlled application.
"Bead Seaters are the most efficient tools used to seat a tire bead during the tire mounting process," commented ESCO Western Regional Sales Manager, James Lueras, "ESCO's extensive new line of bead seaters offers a range of models with different features compatible with their exact application to suit any technicians needs."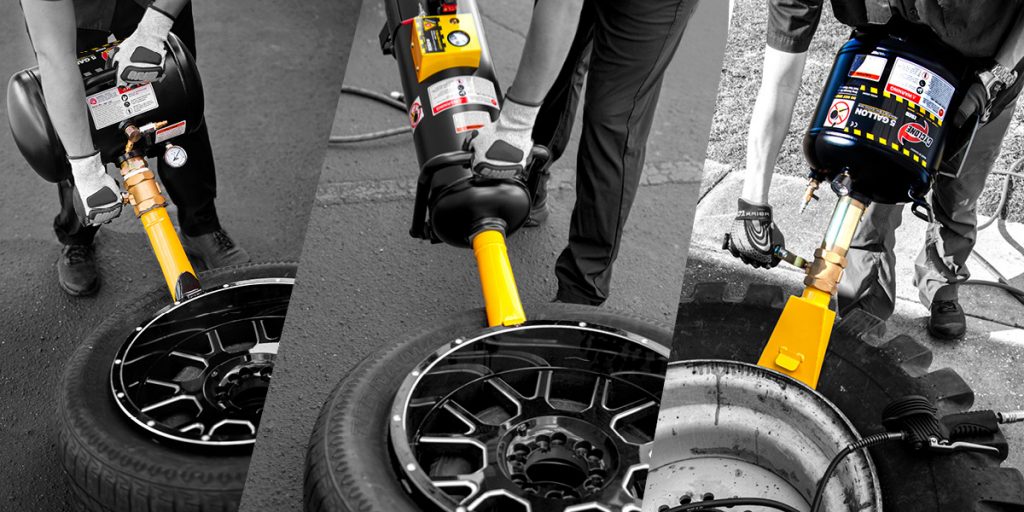 All ESCO bead seaters are equipped with a high-force discharge barrel, designed for precise, maximum air release. Each style seater possesses a fast and powerful discharge system to quickly release air and seat tire beads on the first shot. Both the Cyclone and Hurricane bead seater models include safety glasses and hearing protection.
For any further questions regarding the new Bead Seaters or any other products available from ESCO please contact an ESCO Sales or Customer Service Representative at Toll-Free 1-800-352-9852 or Directly at 352-754-1117. For more information about ESCO Bead Seaters visit www.esco.net or email info@esco.net.
For over 36 years, ESCO has been a world leader in quality hydraulic tire changing tools and accessories for the Commercial Truck, OTR, Mining, Automotive, and Agricultural Market. ESCO produces tire service and handling products ranging from heavy-duty bead breakers; hydraulic rams; air hydraulic pumps; heavy-duty jacks and stands; tire demounting and mounting tools; tire-wheel dollies, torque wrenches, and many other quality tire service equipment to better aid in safely and efficiently servicing tire/wheels.
###