About ESCO

ESCO is the world leader in manufacturing and supplying quality tire service equipment for the automotive, agricultural, commercial truck, off-the-road (OTR), and mining markets. ESCO produces a wide range of tire service/handling products ranging from: heavy duty bead breakers; hydraulic rams; air hydraulic pumps; heavy duty jacks and stands; tire demounting and mounting tools; tire wheel dollies, torque wrenches, and many other quality tire service equipment to better aid in safely and efficiently servicing tire/wheels.
ESCO also has an in-house hydraulic repair facility where we feature our 24-hour Turnaround Hydraulic Tool Repair Program. ESCO is known in the industry as the expert in producing equipment for servicing single and multi-piece rims, with over 36 years of experience, ESCO has the Proper Tools to Keep All of Your Equipment Moving.

Our Mission

To supply innovative industry evolving tire tools and equipment to the marketplace through expanding relationships with our distribution channels.

Our Vision

We envision ourselves changing the way tire service professionals handle tires/wheels globally through the use of innovation, market research, consumer knowledge, and industry trends to better supply relevant products that will continue to support safety and efficiency.
---
Why Buy an ESCO Product over the Competition?
Products have been a staple in the Tire Service & Wheel Handling Market for well over 36 years and continue to expand globally.
Provide quality product and service to multiple markets throughout the world.
Known as the company, that has "The Proper Tools To Keep Your Equipment Moving" around the world.
Product Fulfillment rate at 99% (Excluding build-to-order items).
---
Who Buys ESCO Products?
Fleet Maintenance Shops
Commercial / All Tire Dealers
Truck Shops
Heavy Duty Truck Repair Facilities
Fleet Road Service & Repair
Government/Municipal Fleet Garages
Heavy Construction
Mining Equipment or Trucks
"Do-it Yourself" (DIY)
---
Product Categories Available:
ESCO has everything covered, with over 635 Product SKU's ranging from Tire Lubricant to 350 Ton Hydraulic Lifting Jacks. ESCO's core business is derived from Air-Hydraulic Bead Breakers, Rams, Cylinders, & Pumps.


Tire Bead Breakers
Hydraulic Pumps
Hydraulic Rams & Jacks
High Tonnage Jacks & Accessories
Support Plates & Cribbing
Tire Inflation Equipment & Accessories
Torque Tools & Accessories
Tire Wheel Dollies
Wheel Guards
Truck/Wheel Service Accessories
Balancing Compounds
Liquid Transfer Pumps & Accessories
OTR/OEM Tire & Wheel Accessories
Air Bladder Jacks
Trolley Jacks
Specialty Jacks
Long Chassis Jacks
Bottle & Service Jacks
Jack Support Stands
and Much More!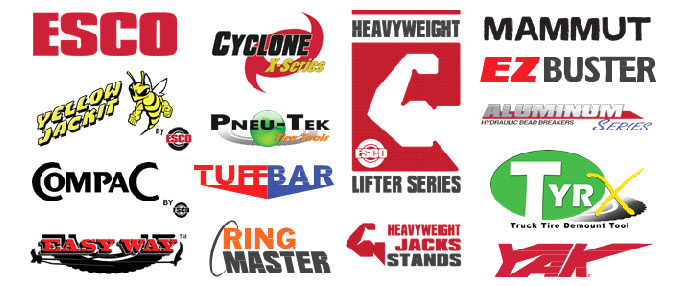 ---
Who will support the products if there is an issue?
ESCO Customer Service & Sales Staff have well over 100+ Years of combined experience in the tire/wheel service industry.
Once product is purchased/registered, the customer have 100% support from the ESCO company for any future needs.
ESCO Products all come with a One-Year Warranty. Some products have "extended warranty" opportunities with registration. For more information on which products apply for extended warranty consideration, speak with your ESCO sales representative.
ESCO has a full Hydraulic Repair and Service Center at our main headquarters in Brooksville, FL. Any product purchased through ESCO can be serviced, repaired, or considered for warranty with our 24-Hour Repair Program Turnaround.
ESCO also has satellite Hydraulic Repair Facilities across the USA for convenience to our customers.
---
Who do I contact if I have Questions or Need More Information?