ESCO Hydraulic STAK-ABLE Ram
ESCO Hydraulic STAK-ABLE Ram
Photos
High Quality expandable ram for a wide range of applications. Eliminates one of the industry's most dangerous jobs; Pushing rusted wheels off of hubs. Works Great on stubborn 22.5 and 24.5 wheels. Does the job where many other rams fall short or are too bulky to be usable in small spaces. Use on OTR and Commercial Truck Tires. Extensions can be used individually or as a single long extension.
Force: 10 Ton
Stroke: 1″ | 25.4 mm
Min. Height: 3.5″ | 90 mm
Max. Height: 12″ | 305 mm
Weight: 12 lbs. | 5.4 kg
  Available Kit:

*Must Register Product to Qualify for 3-Year Warranty Extension.
Photos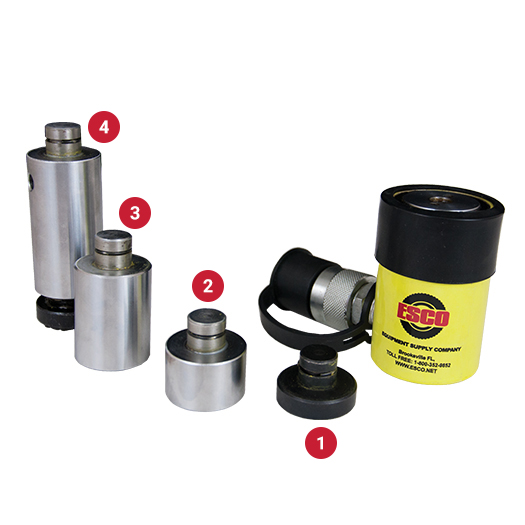 0.4" [ 

10 mm 

]
1" [ 

25 mm 

]
2" [ 

50 mm 

]
3.4-4.9" [ 

87-125 mm 

]